Earned Value Management for GSA OASIS Plus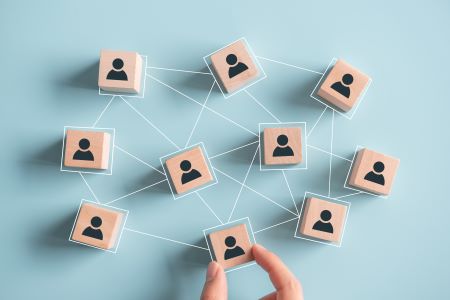 This article was originally published on the Unanet website on 05/11/2023. It has been re-published with permission.
Are you preparing to respond to the GSA OASIS+ RFP? You may have noticed references to an Earned Value Management System (EVMS) at multiple points throughout the package.
While the government does not require an EVMS for a contract award, it may be necessary to execute some task orders. Organizations with an existing EVMS may have an advantage over those without one.
Read on to learn more about what an EVMS is, what you will need to have in place to sustain one, and EVMS requirements specific to the Oasis+ RFP.
What is Earned Value Management (EVM)?
Earned Value Management (EVM) is a project performance management methodology integrating cost, schedule, technical scope, and risk to assess progress against a baseline. Organizations can use that information for early identification of problems and to forecast the cost and schedule at completion.
An Earned Value Management System (EVMS) represents the people, processes, and tools/information used to perform EVM for an organization. While each agency's policies differ, an EVMS is usually required on:
Development contracts where the contract value, including options, is $20 million or more

Individual or groups of related task orders on an IDIQ totaling $20 million or more.
When an agency requires an EVMS on a contract or task order, the system used must be EIA-748 compliant. Contracts with EVMS requirements often have a Contract Data Requirements List (CDRL) requiring a monthly Integrated Program Management Report (IPMR) or Integrated Program Management Data Analysis Report (IPMDAR) submission. Both reports require special software to produce.
The next step in defining how to leverage EVM is understanding the business processes that support it.
EVM Business Processes
EVM business processes document what work needs to be done, how it will get done, and who is responsible. Clear processes, consistently practiced, ensure the system produces timely and accurate data.
Typical EVM business processes cover the following categories:
Organizing

Scheduling

Work/Budget Authorization

Accounting

Managerial Analysis

Revision and Change Control

Indirect Cost Management

Material Management

Subcontract Management
If an EVMS is subject to validation, a System Description (SD) is used to describe and summarize the system so both the external reviewer and the users of the system have a common understanding of the organization's business and how the EVMS is applied to the contract. The SD is often supported by more detailed processes and desktop procedures.
As necessary as processes and procedures are, they still need people to carry them out.
People
On small projects, it is possible for an experienced project controls specialist to do everything necessary to operate an EVMS. Larger, more complex projects, however, require multiple roles to effectively manage using an EVMS. The following roles are commonly involved in an EVMS:
An organization must comprehensively train the people performing these roles in its EVM processes and procedures. Additional roles within the organization may also support the EVM process and need training as well. These may include:
Financial Analysts

Contract Managers

Estimators

Manufacturing Resource Planners

Material and Procurement Specialists

Functional Resource Managers
Having the right people in place is critical, but you will also need to equip them with the right systems and information to enable success.
EVMS Tools and Data
The next components of an EVMS are the tools and the data produced by them. A tool can be as simple as a spreadsheet, or as complex as a fully integrated Enterprise Resource Planning (ERP) system.
Most scheduling tools on the market will calculate simple EV metrics. These metrics are limited in several ways:
They capture hours and whole dollars without complex direct and indirect rate calculation

They display the percent complete for progress without discrete EV methods

They do not have capabilities to manage and log budget changes

They are limited in EV analysis and reporting capabilities
Organizations needing a fully compliant EIA 748 EVMS or IPM reporting for government contracts will require additional EVM software.
To assist in task completion and operations, the core software programs used in an EVMS include:
The above systems must be integrated with a DCAA-compliant ERP system, such as Unanet ERP GovCon, and may be integrated with additional business systems, such as Material Requirements Planning (MRP) and procurement software, as needed.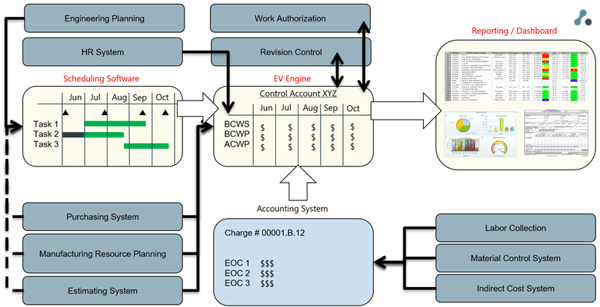 Figure A - An example of an EVMS fully integrated with corporate business systems
OASIS+ Requirements
An organization must have an EVMS validation accepted by an Administrative Contracting Officer (ACO) to claim a compliant EVMS for OASIS Plus. The RFP discusses this in section G.3.1.9.3 Earned Value Management System; the GSA also recently confirmed this through the RFP Q&A process:
"Government and industry program managers use EVMS to assess cost, schedule, and technical progress on programs and to support proactive decision-making. An EVMS is a system for project management that effectively integrates the project scope of work with cost, schedule, and performance elements for optimum project planning and control. EVMS guidelines are contained in the Electronic Industries Alliance Standard 748 (EIA-748)…
Acceptable documentation may include current and valid Advance Agreements or Letters of Acceptance from the Contractor's cognizant DCMA or CFA CO."
Most agencies perform their own validations of contractor systems. For the Department of Defense, the Defense Contract Management Agency (DCMA) performs EVMS validation reviews. For the Department of Energy, the Office of Project Management performs them. Some agencies, such as the National Reconnaissance Office (NRO), the National Aeronautics and Space Administration (NASA), the Federal Aviation Administration (FAA) and others have a dedicated wing known as an EVM Focal Point Office to conduct reviews.
Each agency's process for reviewing a system varies, so it is important to identify your Cognizant Federal Agency's (CFA) EVM Focal Point office and review their requirements.
To obtain a validation by DCMA or other agency, you must have an existing contract or IDIQ task order with an EVMS validation requirement. Validation requirements vary by agency but are often required on development contracts of $100 million or more.
Contracts between $20-100 million require an EIA-748 compliant EVMS but may not require validation. An agency will not perform a validation review unless the awarded contract or task order specifically requires EVMS validation.
What if I do not have a CFA-validated EVMS?
If you don't have a validated EVMS accepted by an ACO, there's no need for concern. Not having a CFA-validated system does not preclude you from winning a contract award. For some IDIQs, such as HHS CIO SP4 or the State Department's Evolve, companies can score points if they can attest, through self- or third-party certification, that they have an EIA-748 compliant EVMS.
An agency may still require CFA-validation on some task orders, but these extra points will help win a spot on the contract vehicle. OASIS+ has introduced something new, which is to accept an ISO 21508 certification as part of the proposal evaluation:
"If claiming credit for this qualification, the Offeror shall provide verification of a current ISO 21508 Certification. Verification requirements include a copy of the Offeror's official certification from an approved ISO 21508 certification body. The Offeror shall provide POC information that includes the name of the Certification body and name, address, phone number, and email address of the representative who provided the ISO 21508 Certification."
Note that an ISO 21508 EVMS certification is not a substitute for CFA validation. ISO 21508 is an international standard for earned value that focuses on standardizing terminology and providing a high-level overview of the processes involved in EVM.
It does not cover the 32 guidelines specified in EIA-748. Companies that choose to obtain this certification should consider it an interim step toward a fully EIA-748 compliant EVMS. Having an ISO 21508 certification is not required for an OASIS+ award.

An agency may require an EIA-748-compliant EVMS for some task orders and a CFA-validated EVMS for others. Offerors that do not have an EVMS may still bid on these task orders but will be required to submit an EVM plan describing their current system and how they intend to become fully EIA-748 compliant.
If you have received third-party certification or performed a gap analysis, include these findings in your bid. If an agency requires a CFA-validated EVMS, the CFA will schedule the validation review. In either case, the more a contractor has invested in implementing an EVMS prior to bidding on the task, the smoother this process will be post-award.
EVMS pre-bidding checklist
If you are a contractor preparing to bid on an EVMS-required task, consider taking the following actions first:
Draft a preliminary EVM System Description.

Identify a pilot project to apply an EVMS on. Ideally this project will be developmental in nature.

Implement scheduling and EVM software, loading the pilot project data.

Operate the EVMS on the pilot project for several monthly cycles.

Perform a compliance assessment of the EVMS using the data generated by the pilot. Assessments can be self-administered using publicly available tools such as the

IP2M METRR

maturity model or performed by a

third-party

* (Optionally, you can seek an ISO 21508 certification, though it is not clear if this will be useful for proposals other than OASIS+).

Use the results of the assessment to improve and close the gaps to an EIA-748 compliant system.
*Note that some agencies will ask that the results of a third-party assessment be included with a proposal (see FAR 52.234-3).
Take the steps outlined above to develop a winning EVM plan that meets the criteria for an EVMS-required contract proposal or task order, putting you in an excellent position to receive CFA validation.
Michael is President of Pinnacle Management Systems, Inc., a premier provider of project-focused business management solutions. Founded in 1993, Pinnacle has been providing implementation and training on performance-based project management systems that help firms meet federal regulatory compliance, improve efficiency, and increase revenue opportunities for over 30 years. Pinnacle's client-driven approach ensures that each solution is the right fit for GovCons throughout all stages of growth.
** This article was originally published by Unanet, a leading provider of ERP and CRM solutions purpose-built for Government Contractors, AEC, and Professional Services.
Read the original article here.
Topics: Aerospace & Defense, Energy, Utilities, Oil & Gas, Earned Value Management (EVM), Integrated Program Management (IPM), Project Portfolio Management (PPM), Government & Public Sector, Enterprise Project Management (EPM), Recent Articles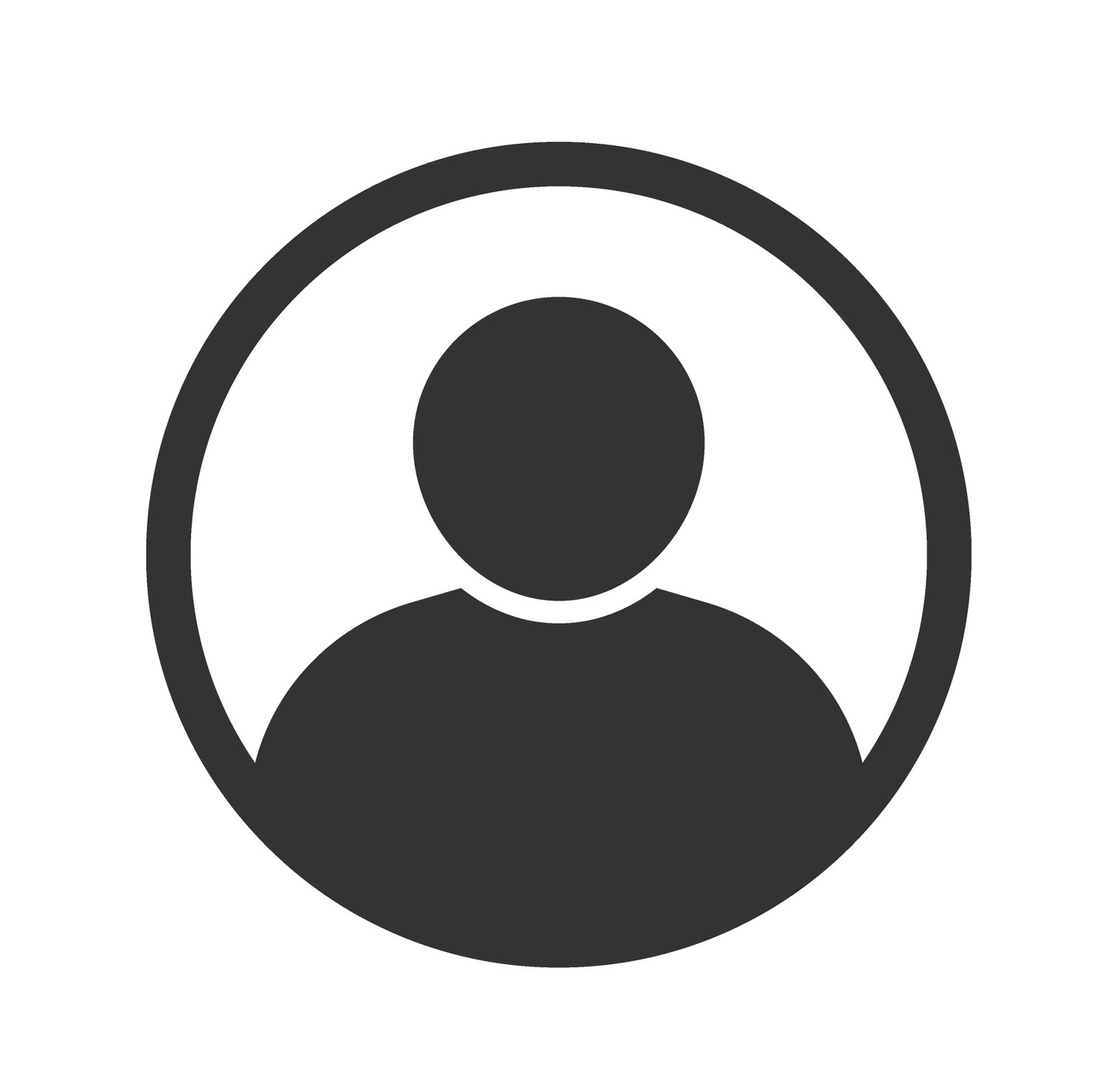 By External Contributor
This article is republished with permission from the source linked above. To learn more about the author, click on the link within the article to the original source.