New ANSI Standard for Earned Value Management Published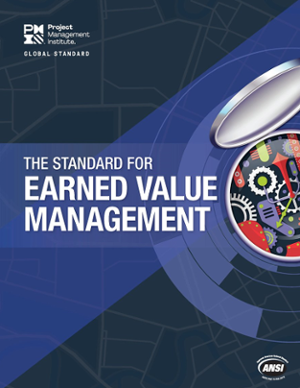 In December 2019, the Project Management Institute (PMI) published a new ANSI standard for Earned Value Management (EVM). "Wait a minute!" you may be thinking, "Isn't there already an ANSI EVM standard?" The answer is a bit complicated and can be explained with a bit of history.
EIA vs. ANSI
In June of 1998, the National Defense Industrial Association (NDIA) updated the old government CS/CSC EVM standard, creating 32 guidelines for applying EVM to projects and published them with the Electronics Industry Alliance (EIA), EIA-748-1998. At the time, certain EIA standards were also published as ANSI standards, and that included EIA-748, which became commonly referred to as the ANSI/EIA 748 guidelines.
According to EIA requirements, the standards must be updated at least every 5 years, so in August of 2002, an update was published, called ANSI/EIA 748-A. These guidelines, which became colloquially called "The ANSI EVM guidelines" or sometimes "ANSI 748," were written into the FAR (52.234-3/4) and DFAR (252.234-7001/7002) clauses for government contracts over a certain dollar threshold and referred to in OMB circular A-11 as a requirement for major government programs. While the guidelines are not very prescriptive, they do specifically address the management and application of indirect costs, the establishment of control accounts, and strict change management requirements, all of which make them particularly applicable to large cost-plus contracts. The use of the guidelines on government contracts was so prevalent that ANSI 748 and EVM became associated with large, complex projects and government regulatory requirements.
In 2005, NDIA published an update to the guidelines as EIA 748-B. Even though ANSI was no longer in the name, many people continued to refer to the guidelines as the "ANSI Guidelines." In 2011, EIA was dissolved, and the part of the organization responsible for publishing EIA-748 became the Government Electronics and Information Technology Association (GEIA), which was purchased by TechAmerica. GEIA standards were no longer considered ANSI standards (and no longer available through the ANSI store), but the EIA-748 guidelines continued to be, incorrectly, referred to as ANSI-748 by many. NDIA published a memo in March, 2015 asking everyone to stop using ANSI terminology in reference to EIA-748. The memo has been somewhat successful, but ANSI 748 is still a commonly used term.
Recently, TechAmerica sold the GEIA assets to SAE International and the latest version of the EIA-748 guidelines have been published by SAE as SAE EIA 748D-2019. NDIA is currently working on the EIA-748E update (a significant re-write which we will write about soon) and intend to continue publishing through SAE.
The result of all of this is that since 2005, and until very recently, there not been an ANSI standard for earned value management.
Other EVM Standards
While the guidelines are designed to be scalable, not everyone has found that to be an easy thing to do. Many project managers find the guidelines to be too detailed and narrowly focused on requirements for US Government cost-plus contracts, while others have found them to be too high-level to meaningfully apply to other types of projects. This has opened the door for other industry organizations to develop their own guidelines and standards. Some of these are:
In addition to the standards above, there are also application guides and white papers published by several organizations to provide instructions on how to implement, scale, or tailor EVM on various types of projects. With so many standards, one might think all project types and industries would be covered with a lot of variation. But each of the standards listed above is consistent with EIA 748, and the contributors worked hard to make sure there was no conflicting guidance. Most of the differences are in the format, terminology, and level of detail. For example, the ISO standard uses a process-based approach rather than a guideline approach but otherwise is congruent with EIA 748. The AACE recommended practices go into prescriptive detail that helps an organization implement an EIA 748 compliant system. But because these standards all agree with EIA 748, some experts still feel they are only applicable to the management of government contracts. While this view is not shared by everyone, it has long been a barrier in adoption of earned value performance measurement techniques more broadly. This leaves room for the authoring of a more flexible standard that can apply to a broader spectrum of projects and portfolios.
The New PMI ANSI Standard
PMI's A Guide to the Project Management Body of Knowledge (PMBoK ® Guide), has been published as an ANSI standard since 1999, with the latest version being ANSI PMI-99-001-2017, so PMI publishing an ANSI standard is nothing new. Note that the actual American National Standard is section 2 of the PMBOK ® Guide running from pages 541 to 635. The new ANSI EVM standard (ANSI 19-006-2019) can be considered an update to the 2011 PMI EVM Practice Standard, now called The Standard for Earned Value Management and elevated to an ANSI standard like the PMBoK® Guide. This new standard is designed to align earned value performance measurement with the PMBoK® Guide and the Agile Practice Guide so that it can be integrated with modern project, program (programme) and portfolio management disciplines as defined by PMI. According to PMI:
"A central theme in this standard is the recognition that the definition for value in EVM has expanded. While the term retains its traditional definition in terms of project cost, it embraces current practice by including the concept of earned schedule. This standard also integrates hybrid methodologies that blend together historical EVM concepts with the needs of the agile practitioner, all with an eye towards aiding the project team in enhancing overall project delivery."
And according to one of the authors, it is less prescriptive and more tailorable than EIA 748, which may give it a broader application outside of US government contracting.
". . . You will find the new ANSI standard more detailed than ISO, but less prescriptive than EIA. It allows for projects to tailor with their organizational process assets (OPAs) and adjust for any enterprise environmental factors (EEFs) while broadening the perspectives regarding the choices and decisions about the optimal approach.'"
- John Driessnack (contributing author)
The Project Management Institute develops the PMBOK® Guide to apply to most projects most of the time. The PMBOK® Guide and The Standard for Earned Value Management are best used together because there exists a good amount of information about earned value management in the PMBOK® Guide. Both standards are meant to be globally applicable and to be tailored to the project application. PMI has developed 23 standards, not all are American National Standards, and has an online lexicon of Project Management Terms.
This new Earned Value Management standard should not be thought of as competing with EIA 748. Rather, consider the PMI ANSI standard as an overarching guidebook for how earned value performance measurement can be integrated with your project and portfolio management processes, with EIA 748 being one set of standards for doing so.
If you need guidance on your EVMS,
or
- We can help!
Topics: Earned Value Management (EVM), Integrated Program Management (IPM), Project Portfolio Management (PPM), Government & Public Sector

By Michael Breuker
Michael is President of Pinnacle Management Systems. Since joining the company in 2000, he has performed in a variety of consulting and management roles affecting transformative change within federal agencies and suppliers, IT organizations, Engineering & Construction, Aerospace, Finance, and other industries that desire to improve project and program performance. Michael is a Microsoft Certified Professional and certified Primavera trainer and consultant. He is also an AACE certified Earned Value Professional (EVP), and an APMG certified trainer for IPPM. He currently serves as the Dean of Scheduling for the College of Performance Management (CPM) and is an active participant with the NDIA Integrated Program Management Division (IPMD) and the Civilian Agency Industry Working Group (CAIWG). As part of his contribution to the industry, he helped author the NDIA EVMS Scalability Guide.