5 Benefits of Earned Value Management (EVM)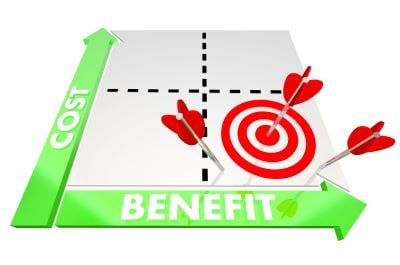 Earned Value Management (EVM) is not a perfect fit for all types of projects. For example, short-term projects, low risk projects, or projects using agile development techniques may not benefit from a full Earned Value Management System (though they may still benefit from a scaled or tailored EVMS). But for most projects, where there is a risk to on-time, on-budget delivery, and where cost and schedule need to be managed, earned value management benefits the project greatly.
Here are five benefits of earned value management (EVM) for your project:
1. EVM is an Excellent Measure of Progress
Anyone who is invested in a project will want to know how things are progressing at a given point in time. An earned value management system can help with that. Typically, status is provided in the form of Percent Complete. But what does it mean if someone says that a project is 50% complete?

Time? Does 50% complete mean that three months have elapsed on a 6-month long project?
Cost? Does 50% complete mean that half the money has been spent?
Estimated Progress? Does 50% complete mean that the project manager estimated that 50% of the work has been completed?
If the three descriptions above don't sound reasonable for reporting progress, it's because none of them represent actual progress. And yet, these methods are used to estimate progress on projects all of the time. This often leads to surprised and disappointed stakeholders when, late in the project, the realization sets in that it will not complete on time or within budget.
EVM solves this problem by providing objective measurements of percent complete. It does this first by requiring projects to be decomposed into small, measurable work packages with completion criteria. In some cases, work packages are broken down further into completion steps, or milestones. Next, it uses the budget (in hours or dollars) to apply a weight to each completed work package and/or milestone, which can be summarized through the WBS to provide an objective percent complete based on actual work completed, and the value, in terms of budget, that the work represents.
An objective percent complete is then used to calculate Earned Value (EV), aka Budgeted Cost of Work Performed (BCWP), which represents progress expressed in hours or dollars. EV is a performance metric that can be compared to budgeted costs to determine schedule variances, or to actual costs to determine cost variances. These variances form the basis of Earned Value Analysis, which provides a powerful tool for project managers to identify and quantify cost and schedule issues, and to forecast cost and schedule at completion.
2. EVM Enables Accurate Forecasting
A DoD study of 400 programs in 1977 showed that when a program is only 20% complete, the Cost Performance Index (CPI) could accurately predict the final Estimate at Complete. An updated study in 1998 by Quentin Fleming and Joel Koppelman, which included over 700 programs, showed similar results. Other studies have been conducted on this topic over the decades, using different criteria for slightly different results, but they all come to similar conclusions. At some point in the life of a program, the CPI will stabilize and become an accurate predictor of the program's cost at completion, and this usually happens before a program is even halfway done.
An earned value management system remains one of the best forecasting tools for high-risk development programs. The data from the studies above is compelling and shows that past performance really can be an accurate predictor of future success. Using good EV data to forecast completion costs, project stakeholders can accurately plan resources, including making funds available, to ensure projects deliver necessary benefits, as well as properly adjust project portfolios to ensure organizational success.
3. EVM Supports Management by Exception
It does take a little work to produce good EV data, but one of biggest benefits is that it allows project managers and stakeholders to focus on issues that have the biggest cost and schedule risk. That means less time chasing problems that have minimal impact, while dedicating resources to the things that improve project outcomes.
Using business intelligence tools, a project manager can drill down through the WBS to see what activities are contributing the most to cost and schedule variances. Using trend analysis, a project manager can measure the effectiveness of corrective actions over time and continue to make improvements where needed.

Image Courtesy of Encore Analytics
4. EVM Promotes Good Project Management Disciplines
EVM is a project management methodology that integrates schedule, cost, scope, and risk. To produce good EV data, and use it to effectively manage the project, requires that all four of these dimensions be applied using industry best-practices.
Schedule - A good critical path schedule, built to the right level of detail, resource loaded, with logic and minimal constraints, will serve as an excellent tool to forecast completion of deliverables and resource requirements. Such a schedule is also necessary to form the basis of the time-phased Performance Measurement Baseline (PMB) against which EV performance will be measured.
Cost – A good time-phased budget and forecast, derived from a resource-loaded schedule, provides a spend plan and an accurate estimate of funding requirements. Collecting actual costs at a level of the WBS where project performance is analyzed will identify problem areas, enhance forecasting, and provide useful data to improve future estimates.
Scope – Breaking down the statement of work and requirements through the project WBS and developing a WBS Dictionary to document the scope at a granular level ensures accurate planning, that all project requirements are being met, and provides an objective basis for measuring progress. Instituting a baseline change control process ensures that out-of-scope efforts don't creep into the project and derail it.
Risk – Project risk management involves assessing the cost and schedule impact of risks and implementing mitigation strategies to reduce those impacts. Identifying schedule activities associated with risks and mitigations allows for more accurate analysis of cost and schedule impacts, and management of change. Factoring risk and uncertainty into the budgeting process ensures contingencies are in-place to fund mitigations as risks are realized on the project.

Most professionals working in the project management field would agree that all of the above disciplines represent good project management, regardless of whether EVM is applied on a project or not. Most project organizations desire to do these things well, even if they have room to improve. But an Earned Value Management System (EVMS) cannot function if these four disciplines are not integrated into a single system. For an EVMS, the parts do not work outside of the whole. For this reason, EVM is often referred to as Integrated Program Management (IPM), and a well-functioning EVMS will ensure good project management practices are performed across these four dimensions, yielding all of the organizational benefits provided by each. Ultimately, it will help to ensure teams and management have all of the tools they need at the ready ahead of an integrated baseline review.
5. EVM is Cost Effective
A 1994 Coopers & Lybrand and TASC study estimated the cost of a government mandated EVMS at 0.9% of the contract cost. A 2016 survey by the Joint Space Cost Council (JSCC) found that most contractors already have management systems that contain many of the components of an EVMS, so the cost of the gap between an existing system and a fully compliant EVMS is much less than 0.9%.
There is no silver bullet that ensures all projects come in under budget but spending less than 1% of a program's budget on an effective cost & schedule control system that includes EVM is a great start. EVM gives the program managers the information they need to make timely, targeted, and effective decisions that produce measurable results for very little additional cost.
Are you considering implementing Earned Value Management but are unsure of where to start? We can help.
to learn more about the potential earned value management benefits for your company.
Topics: Aerospace & Defense, Energy, Utilities, Oil & Gas, Engineering & Construction, Earned Value Management (EVM), Integrated Program Management (IPM), Technology, Deltek PPM, Oracle Primavera, Government & Public Sector, Microsoft EPM, forProject Technology, Encore Analytics Empower, Recent Articles

By Michael Breuker
Michael is President of Pinnacle Management Systems. Since joining the company in 2000, he has performed in a variety of consulting and management roles affecting transformative change within federal agencies and suppliers, IT organizations, Engineering & Construction, Aerospace, Finance, and other industries that desire to improve project and program performance. Michael is a Microsoft Certified Professional and certified Primavera trainer and consultant. He is also an AACE certified Earned Value Professional (EVP), and an APMG certified trainer for IPPM. He currently serves as the Dean of Scheduling for the College of Performance Management (CPM) and is an active participant with the NDIA Integrated Program Management Division (IPMD) and the Civilian Agency Industry Working Group (CAIWG). As part of his contribution to the industry, he helped author the NDIA EVMS Scalability Guide.